CEO of MediaTech Ventures, Paul O'Brien (aka SEO'Brien) is an old dog from the Silicon Valley. Born and raised in the startup-culture and the digital era, Paul built his first website in the '90s and was featured in the book Online Marketing Heroes. Passionate by the Media industry and innovation, he now works in Venture Capital Economic Development and defines himself as "a fractional CMO who works with innovative companies to move venture capital". Support of the Wallifornia Music Tech Festival, that he supports from Texas, we had a chat with him to collect his thoughts on what MusicTech is about and how to perform within the Music Industry.
How sensitive is the Music Industry to Technology?
Artists and producers in the creative class of our economy are directly impacted by known and relevant innovations such as Spotify, Amazon Prime or Instagram. But this question reflects a much more fundamental fact of our industry: the internet forever changed HOW everything works.
Quite simply, you are a part of that shift or you are left behind. A capable website is fairly easily built and optimized, at nearly no cost, today.  A keyboard and internet connection gave everyone a voice that can reach everyone in the world, when you appreciate how social media and search engines work. Learning how that all works and how to leverage it means the difference between still playing gigs at your local bar versus producing your own album and going on tour under your own volition.
How do you know whether a technology will be disruptive or not?
A traditional new business isn't disruptive, by nature. If you launch a new recording studio in town, you're applying an existing business model, use of space, and expertise to provide value. That's not disruptive, it's additive. Disruption requires an understanding of the market at large – it means change. But it is also a sticky term. It's one of those words that can mean something good or bad depending on the perspective.
What a company becomes is rarely what it started out to be. What I look at is not their product nor customer validation but their mission – what they've set out to achieve. I also look for teams and opportunities that "won't fail". It's a twist of logic as most presume that founders and venture capitalists are striving for success – and of course, they are. But the reality is that in innovative technology, the likes of which can be disruptive, overwhelmingly most things fail. That's the nature of entrepreneurs – it's more a game of failures to find what works, than tenacity on a business until it works.
Latest Austin Cohort from Collective, by MediaTech Ventures 
What are the next revolutions you are looking forward to?
I tend to focus on more practical applications and simpler notions than the ones futurists and pundits like to share on stage. Is artificial reality incredible? Yes, of course it is; we have yet to really see how. Machine Learning and Big Data? Tell me in five words what that is. I think the media industry is still in store for embrace of existing capabilities substantially applied. For example, why is it so hard to find every music event? Not just the concerts at the concert hall, all of them. Or, why don't we use Fintech to track IP and ensure creators get paid? The possibility exists. What's holding it up?
I'm looking forward to what's already possible actually being done so that our artists might thrive.  We should expect it. We should demand it. Sure, blockchain will change the world, some day. Let's change it now with what's already readily available.
How do you select companies for investment?
Exit potential. One of the greatest challenges in entrepreneurship is that the community isn't explicit about words. Investment is not a grant. Investment is not a loan. Investment is not convertible debt.  Investment is not revenue-based financing. Investment isn't your friend giving you some money to start a business. Those are all wonderful and viable sources of capital but each means something different. Investment means ownership of a company and Investors don't do that as philanthropists. An "investor" in Wall Street doesn't just give the money to the companies they want to support – they seek to grow the value of that investment and get more money back in return.
The easiest way to discern such opportunities, as an investor in startups, is not in customer validation, modeling early revenues, or other techniques talked about pertaining to how startups get funded, it's actually simply can and will they exit? Can this venture get acquired or go public? Without one of those two things happening, the investor can only make money on their investment by getting paid (revenue-based financing) from revenues or profits… as that's not the same as what we mean when we "invest in a startup." None of that means the company must exit.  As we know, most don't. Most still fail.  But the bottom line is the same: can it and will it?
Do acceleration programs really matter and what are the main reasons to support them?
Unequivocally yes, but. Accelerators put resources and mentors, partner, and advisors in place to do foster growth and reach.  And it's important because those are costs, networks, and processes that most would otherwise struggle to access and afford. Such programs certainly aren't for everyone, no one should presume that getting into an Accelerator is the answer, definition of success, nor that it's right for them. But everyone should appreciate that those that specialize at doing that very thing, capably, are wonderful resources for the millions of people that would otherwise struggle to get at such experience.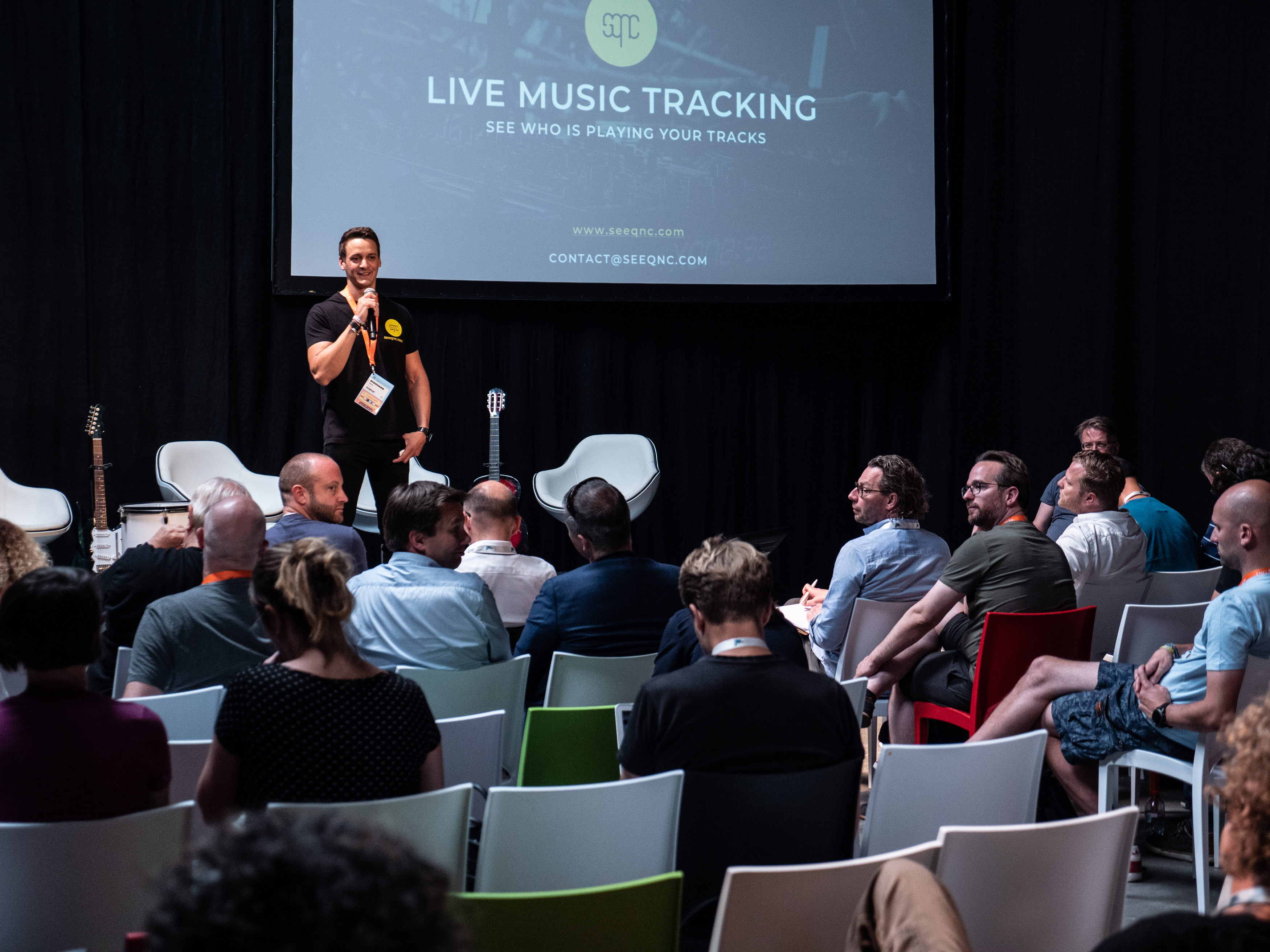 What do you think of the Wallifornia MusicTech Festival?
In today's internet-based information age we are all bombarded by news, speculation, and sales pitches. It's impossible to keep up with what's valid and legitimate versus what's noise and hype. Wallifornia MusicTech Festival takes us out of that online media environment and curates, connects, and explores opportunities in person. The future of our industry is in more such festivals, throughout the world.
When we started MediaTech Ventures, our very first meet up, just exploring the idea behind what we're doing, stuck together Musicians and Venture Capitalists. VCs don't fund musicians. Musicians need funding and support – could they not get it from investors? It was that in-person experience that enabled the Media and the Tech to come together and solve problems. That's why Wallifornia MusicTech is so critical to Belgium, Europe, and indeed the world.
Gérôme Vanherf, Program Director of Wallifornia MusicTech Festival and Fred Garroy, from Wisebull interviewed by John Zozzaro (MediaTech Ventures) at SXSW
CEO of MediaTech Ventures, Paul O'Brien (aka SEO'Brien) is an old dog from the Silicon Valley. Born and raised in the startup-culture and the digital era, Paul built his first website in the '90s and was featured in the book Online Marketing Heroes. Passionate by the Media industry and innovation, he now works in Venture Capital Economic Development and defines himself as "a fractional CMO who works with innovative companies to move venture capital". Support of the Wallifornia Music Tech