We had a quick chat with Gianfranco Ceccolini, the founder of MOD devices, about his previous experiences at the Wallifornia MusicTech and general thoughts on music-tech. The company came away with our grand prize at the Pitch competition back in 2017, so we thought it would be interesting to follow up a few years later. We got a brief insight into the world of MOD devices through the concise answers given by Gianfranco Ceccolini. First, here is a bit about MOD devices.
The company broke through with their innovative range of digital effects interface the MOD Duo. The Mod Duo is a stereo/dual-channel device that can accept guitar/bass, line or mic signals, and which can host both effect and instrument plug-ins, including more esoteric creations such as loopers. With a vast amount of software plug-ins available today for music production and performance, you would usually need to go through a computer with a production software in order to set everything up. What MOD has done is eliminate the middleman in this process and allow you to directly add any effect to your live performance. The hardware is, in essence, a compact computer built into a die-cast aluminium stompbox enclosure.
Can you summarize what is MOD devices and what you do?
"We do audio processors for musicians, and our processors are customizable to a point with no equivalent in the industry yet. We essentially do the most versatile device in musical performance. Our devices are fully configurable by musicians. We try to combine the best of both the analog and digital world. "
What is your own vision of the world of music-tech?
"The way technology has evolved until now, the devices were m
ade in the laboratories of companies and all the intellectual property was in effect contained within these laboratories. It's not like that anymore though, we have millions of scholars around the world creating amazing software. What we try to do with our devices is to provide a bridge between the developers and the musicians, and we provide a device that is able to take code from developers around the world and put this code to work in a proper way and a customizable way for the musician so they can use it for their performance."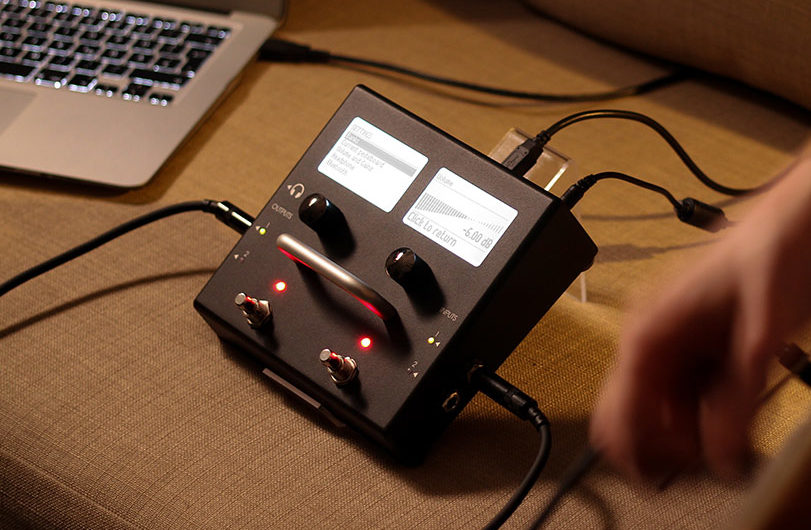 How did you first hear about the Wallifornia MusicTech ? 
"Our first business angel had contacts at Leansquare and recommended us for the event. So we took part in the acceleration program in 2017, we did very well, we won it! This resulted in a successful fundraising round where Leansquare and Wallimage were the main investors of that round.
And how was your overall experience?
For us this was super positive. We recently had a subsequent fundraising round were Leansquare also participated. So I would say from a funding perspective, the Wallifornia MusicTech was the seed of a very successful sequence of fundraising for us."
Is there anything you could pinpoint as having given you the most value here?
"Our participation in the event was good for multiple reasons. The financial side of the event and the  acceleration was super nice but then after the event having the opportunity to meet the financiers and make the pitch was great as well. I don't know, I wouldn't be able to name just one thing from the event, everything was generally great during the Wallifornia MusicTech."
Would you recommend going through the acceleration program at WMT and take part in the Pitch Competition?
"I definitely would recommend it, because pitching your company is not straight forward, it's more complicated than it seems. I think that on the acceleration program you have that opportunity not only to understand how the pitch works and what needs to be in the pitch but you actually have mentors that are involved in funding companies. So getting this real-time feedback for us was very intense but very useful." 
What advice would you give new music-tech startups just starting out in the field?
I think, when you say music-tech the word tech, kind of implies that it's a technical thing. This made me realize that we focused too much on tech. If I were to start my endeavor again I would have marketing and business focuses from day 0, I think this is super important.
You can find out more about MOD devices right here
Great stuff from a great start-up! Though we have already confirmed the start-ups selected for our Acceleration program this year you can still sign up to the Pitch competition right here !
Interested hackers can apply 
here
!
We had a quick chat with Gianfranco Ceccolini, the founder of MOD devices, about his previous experiences at the Wallifornia MusicTech and general thoughts on music-tech. The company came away with our grand prize at the Pitch competition back in 2017, so we thought it would be interesting to follow up a few years later. We got a brief insight into the world of MOD devices through the concise answers given by Gianfranco Ceccolini. First, here is a bit about