Often hailed as one of the world's best music events by the music industry, Tomorrowland has acquired a legendary status among festivalgoers around the world. A popularity that normally ensures a worldwide ticket rush and hundreds of thousands of attendees yearly. So, when Tomorrowland announced its ambition to launch a virtual edition in 2020, expectations were at least as high as the challenges that lay ahead. This year, everybody got the opportunity to join in, but was the magic there too?
When Tomorrowland took the decision to launch a virtual edition of its emblematic festival, the challenges were numerous. Not only was the team tasked to set everything in motion in an extremely short amount of time, they also had to figure out how to translate Tomorrowland's magical atmosphere on a computer screen, while making it accessible to the masses. According to Debby Wilmsen, in charge of communication at Tomorrowland, time was of the essence: "Everyone really needed to work 24/7 to get everything ready. It was very time consuming to render all the images that normally cover 8 stages, 60+ artists, 16 webinar sessions, and extra activities. Also, because of Covid-19, everyone was working from home. And because it was impossible to travel, we literally had to build four video studios for the artist recordings".
Like a Dog(studio) with a bone
Even though the mainstage 2.0 was inspired by the designs of the 'real' mainstage, the creative process was incredibly complex too: "On top of the 6 4K Ultra HD cameras, a number of virtual cameras were created for each stage, allowing the director to choose from up to 38 cameras during the recordings," says Debby, who also indicates that the digital 3D environment had 10 times more polygons and lights than a modern computer game. In total, more than 300 TB of raw footage was collected. "Tens of different render engines worked for 4 weeks – 24/7 – to process all the data," recalls Debby. "Each outdoor stage on the island had a 16 square kilometre surface for which 32,000 trees and plants and more than 280,000 virtual festival visitors with their own flags and other festival attributes were created". Fun fact: even Tomorrowland employees took part in the audio recordings.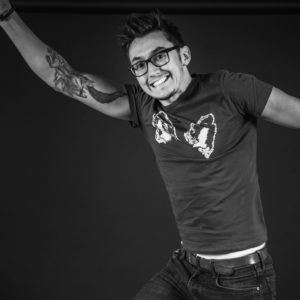 No small feat, but in order to square the circle Tomorrowland was able to count on the support of International multidisciplinary creative studio Dogstudio. Even if Tomorrowland and Dogstudio had been sniffing each other for a while, they had never actually collaborated before. "Since both we and Tomorrowland are active on the premium segment, we always thought we had to do something together, but the right opportunity never presented itself. Until Tomorrowland Around the World came to be, that is" says Henry Daubrez, CEO of Dogstudio.
Despite the tight timeline – "We had little more than nine weeks to finalize the project when we usually take three to four months for something similar" – the CEO was impressed by how smooth the collaboration between the two teams was : "Nothing would have been possible if we weren't fully integrated in the Tomorrowland's team, which shared a common vision with ours". In total, nine people from Dogstudio worked full-time on the project, along with 25 members of the Tomorrowland team.
According to Henry Daubrez, optimizing the operation was the hardest part. The aim was to deliver the best web technology for a maximum number of users. A real challenge, when you take into account how complicated it can be to just have a proper and continuous conversation on Zoom. "The Team at Tomorrowland provided us with very high-quality 3D visuals and we had to operationalize them. We constantly had to optimize what we were doing, in order to save some capacity and make things as light as possible. We also spent a lot of time debugging the system and anticipating potential chaotic behaviors among users," recalls Henry, who also acknowledges that it helped that the platform was designed to have different streams according to the different time zones. A safe choice, both from a pragmatic and a technical point of view.
Live Today, Love Tomorrow, Unite Forever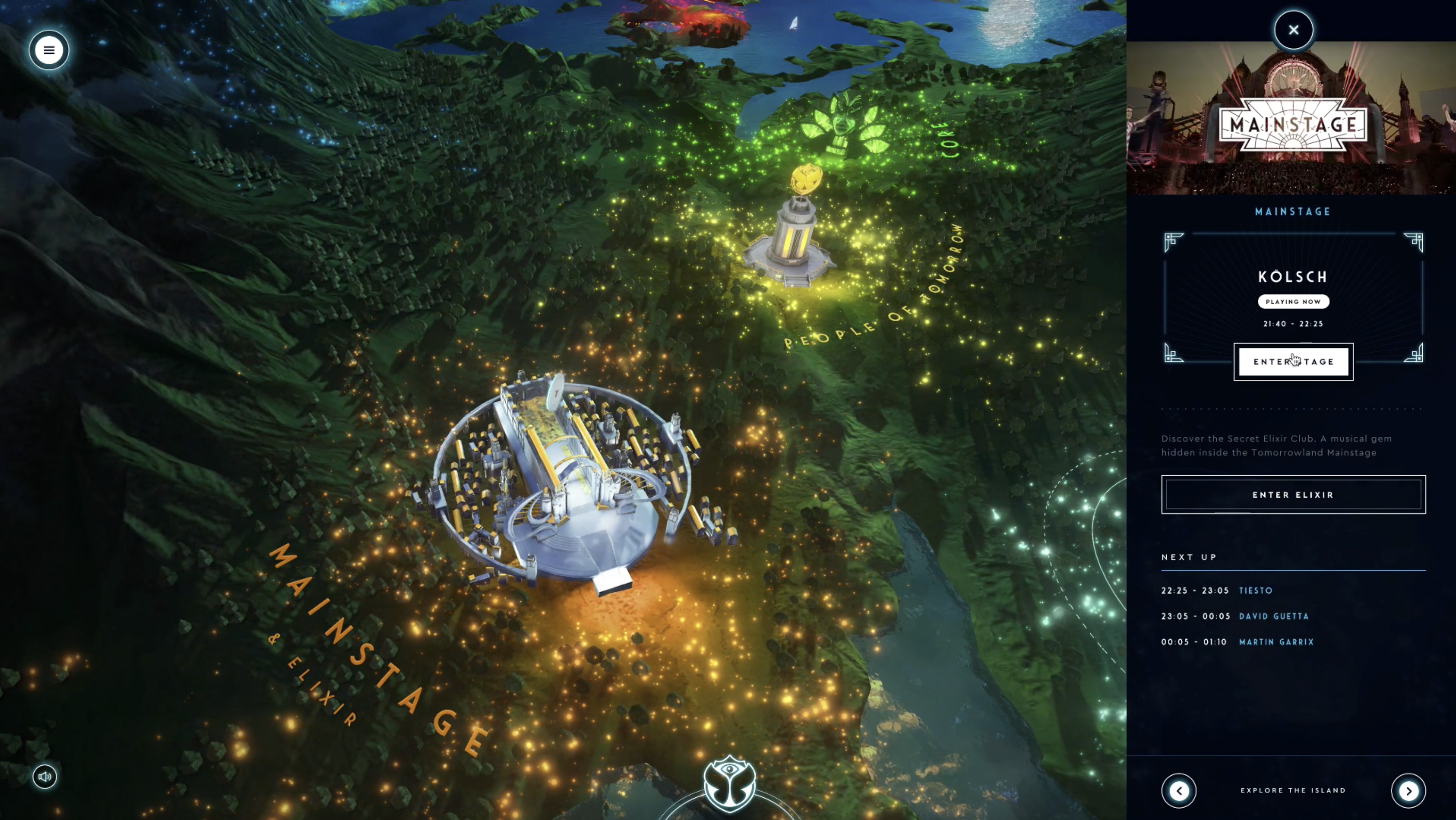 With more than one million festivalgoers who joined the platform, the whole operation seems to be a tremendous success. But at Dogstudio, if people are happy that "the site held on" the focus is already on what could be improved in the future. "From a customer's perspective, it was important to deliver a high leveI of quality experience. People paid for the show, even though it was very affordable, so they had logic expectations. It was important to reassure them by showing them that they got great value for money," says Henry Daubrez.
With the aim of creating a high-end show, the team did its best to recreate the dreamlike faerie characteristic of Tomorrowland on screen. Yet, no one is trying to pretend that they created a substitute for the physical show. "Both Tomorrowland and Dogstudio were aware of what Tomorrowland around the world could and couldn't be," says Henry "and the objective was to give some visibility to artists and sponsors in a complimentary way to what festivals are. But it will never be like sharing a beer with friends while listening to music". An opinion also shared at Tomorrowland: "We think this can be a very nice thing in addition to the real festival. It gives many people the opportunity to experience the festival, including people who are not able to come to Belgium," says Debby Wilmsen.
A stance that could be influenced by the development and the mainstreaming of VR? "I doubt it," shrugs Henry, who still highlights the potential of those new technologies: "Covid-19 is like a giant sandpit for AR/VR. For artists, it opens up a lot of new possibilities of interaction with their audience". And Henry to cite the many contacts he got from artists PR, managers and labels following the involvement of Dogstudio in designing Tomorrowland around the world. Love Today, Live Tomorrow?
Credits:
Dogstudio team: Creative, Production & Design Director, Texturer: Henry Daubrez; Lead producer: Sebastien Goffin; UX/UI Design: Camille Theveniau, Lorena Foucher, Henry Daubrez; 3D artist, Texturer : Paul Guilhem Repaux; Lead Developer : Anthony Du Pont; Technical Director: Samuel Honigsten ( Samsy ); 3D developers: Samuel Honigsten, Jordan Machado; Sound Engineer: Gimmi Pace; Video Music: Ocoeur – Overclock
Tomorrowland team: Lead Producer: Philippe Ben Mohamed; Creative Director: Christophe Van den Branden; Developers: Stein Van Stichel, Jannick Vandaele, Nick de Frangh; 3D lead: Maarten Veldeman; Project Manager: Hilke Heremans
Streaming: Freecaster TV
Often hailed as one of the world's best music events by the music industry, Tomorrowland has acquired a legendary status among festivalgoers around the world. A popularity that normally ensures a worldwide ticket rush and hundreds of thousands of attendees yearly. So, when Tomorrowland announced its ambition to launch a virtual edition in 2020, expectations were at least as high as the challenges that lay ahead. This year, everybody got the opportunity to join in, but was the magic there