As part of its Open Innovation strategy, Sacem Lab brings together experts and start-ups to meet the needs of its artists better. In particular, it communicates with players in the music tech ecosystem to develop collaborations and bring solutions from outside into Sacem. This year, Sacem Lab is partnering with Wallifornia MusicTech. Meet Adeline Beving, Head of Innovation at Sacem.
 "I founded and manage Sacem Lab, Sacem's innovation unit, whose mission is to help create value for artists (authors, composers and music publishers)," says Adeline Beving. By value, she mainly means sources of income, because the aim of a collective rights management organisation such as Sacem is to enable creative artists to make a living from their art in a sustainable way.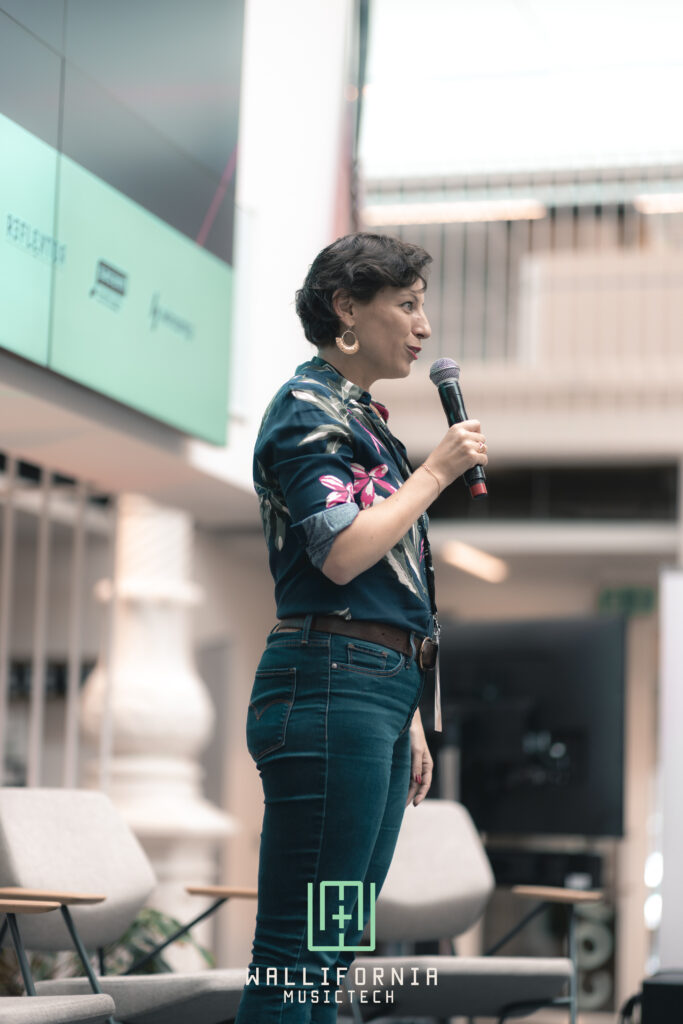 "Today, most of our work involves getting data from streaming platforms like Spotify or Deezer and transforming it into hard cash as quickly as possible."
From the point of view of innovation, Sacem Lab is working on the technological issues associated with these royalties by providing solutions that will enable artists to earn more thanks to emerging new technologies or practices, such as NFTs. In addition, Sacem Lab is looking for ways to further engage fan communities or share musical repertoires.
From the outside in
Created in 1851, Sacem (the French equivalent of Sabam in Belgium) was the first royalties organisation in the world. It brings together and represents authors, composers and music publishers to negotiate with the major players in music distribution with one voice. It's a non-profit non-trading entity owned and managed by its members, which works for the sole purpose of providing them with better services and income.
Sacem has seen the music industry in turmoil many times over the last 170 years. The organisation has always managed to adapt to change in order to stay in business and keep defending collective royalty management. Faced with the digital revolution in music consumption, Sacem felt the need to create an innovation unit to complement the negotiation side and offer new tools to artists.

"Wallifornia MusicTech is a key event for us. First of all, we are celebrating Sacem Lab's six-month anniversary, after an initial preparatory phase. What's more, as well as our in-house solutions, we are looking to establish collaborations with the music tech ecosystem of which Wallifornia MusicTech is part. We choose our partners carefully, and Wallifornia is an obvious choice for us because of the great quality of its conferences and its qualified audience. We love working with the Wallifornia team to fulfill our threefold mission."
Sacem Lab in three missions
Anticipating and monitoring. What will transform music in the coming months and years? "At Wallifornia, you can feel the things that are evolving through discussion and by listening to the presentations," says Adeline Beving.
Experimenting. Testing innovative solutions, relying mostly on solutions from start-ups or innovative players.
Sharing. "We really believe in collaboration and interaction to deal with complex issues such as Web3. You can't do it on your own – you get results through contact with your ecosystem. This is the very essence of Sacem: collaboration is in our genes," continues Adeline Beving.
Anything you want to add, Adeline? "Yes! We're proud to announce we've just released our first blockchain product, called Musicstart. It's a platform available to the general public, not just Sacem members, which allows any artist to come and deposit their works and obtain what is called proof of anteriority of a song text, a score or a master. This proof is deposited in the blockchain and thus becomes transparent, concrete and unalterable."
Voir cette publication sur Instagram
About Sacem
As part of its Open Innovation strategy, Sacem Lab brings together experts and start-ups to meet the needs of its artists better. In particular, it communicates with players in the music tech ecosystem to develop collaborations and bring solutions from outside into Sacem. This year, Sacem Lab is partnering with Wallifornia MusicTech. Meet Adeline Beving, Head of Innovation at Sacem.  "I founded and manage Sacem Lab, Sacem's innovation unit, whose mission is to help create value for artists (authors, composers and