The name Winamp is music to the ears of music lovers everywhere. The iconic media player, released in 1997, is back on track. Owned by AOL from 1999 to 2013, it is now the property of the Belgian group Targetspot.
Winamp is a partner of Wallifornia MusicTech 2022, which connects companies and start-ups. Many large companies are looking for innovative solutions to solve specific problems or address new challenges. Wallifornia MusicTech provides them with its wide network of more than 5,000 start-ups, which is why Winamp wanted to be involved. On Wednesday 6 July, we had a chance to chat with the CEO of Targetspot (formerly AudioValley), Alexandre Saboundjian.
Targetspot provides all kinds of digital audio solutions for marketing and advertising. The company bought Winamp in 2014. Since then, they've been working on a new version of the media player – which is actually far more than just a player – aimed at two audiences.
On one side, music lovers will be able to merge all their listening experiences into one app, whether it's to listen to podcasts, audio books or music. Alexandre Saboundjian: "As a user, it bugs me to have to switch from one platform to another depending on the media I'm consuming. Winamp wants to provide the kind of global experience that I can't find anywhere else on the market. Our main goal is to keep it simple. I want to access my content just by pressing the play button."
Voir cette publication sur Instagram
On the other side, a new feature is dedicated to creators. One of the main issues of the musician's job nowadays is dealing with the complex income streams generated by all the different platforms: audio streaming services, social media, licensing, publishing… Besides that, the amount of income is a problem in itself.
"Nowadays, most artists (99.6% of them, according to a survey) are not satisfied with the income generated by their activities. We want to offer them proper revenues and help them monetize their skills and their work better."
How? By creating a special connection with the fans. Alexandre Saboundjian: "Music fans are a special type of customer. In fact, they're much more than just consumers. They want to enjoy a direct link with their favourite artists. Social media doesn't provide that type of experience, because only a tiny part of the value created by the musical content goes to the original creator of the content. It doesn't make any sense."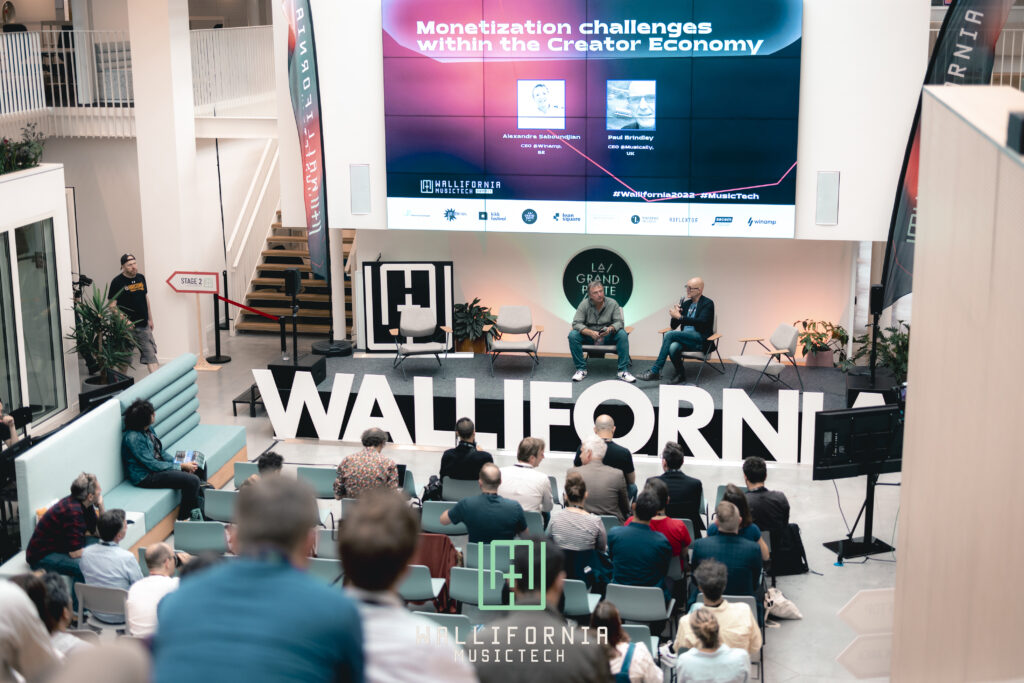 Winamp has been working in close collaboration with artists, and what has emerged from their discussions is the need to aggregate the various aspects of what musicians do, providing a simple, easy-to-use tool so that creators can focus on what they do best: creating.
"When we talk to artists, most of them know Winamp and think it's cool. So we expect a rapid increase in the number of users" – Alexandre Saboundjian.
The Winamp app will be officially launched in October. All the other services (NFTs, distribution service, sync licensing, rights management…) will then be made available over the next six months. Winamp strongly believes in the power of NFTs and wants to help artists to generate their own. With a special contract on the blockchain, creating NFTs today will allow artists to reap the benefits of their work later.
Voir cette publication sur Instagram
About Winamp
The name Winamp is music to the ears of music lovers everywhere. The iconic media player, released in 1997, is back on track. Owned by AOL from 1999 to 2013, it is now the property of the Belgian group Targetspot. Winamp is a partner of Wallifornia MusicTech 2022, which connects companies and start-ups. Many large companies are looking for innovative solutions to solve specific problems or address new challenges. Wallifornia MusicTech provides them with its wide network of more than