After two years confined to the virtual realm, the sixth Wallifornia MUSIC & INNOVATION Summit opened yesterday evening in an informal, relaxed atmosphere on the rooftop of La Grand Poste in Liège (Belgium).   
The digital revolution has transformed the way we all consume music. The challenge of adapting has never been greater, but one thing remains – the joy of meeting for a chat and a drink. On the eve of the sixth Wallifornia MUSIC & INNOVATION Summit, which is taking place on 6 and 7 July in Liège, we met at La Grand Poste, Wallifornia's HQ. The building's 8,000 m² are dedicated to a community of creative entrepreneurs, with a focus on the digital, media and entertainment industries. The aim of this Welcome Drink was to break the ice and assemble the attendees, who were arriving in ever-increasing numbers from more than 20 countries, before two days of workshops, panels, and conferences. A relaxed musical backing was provided by Nicolas Michaux, followed by a set from DJ Sonar.
Global niche music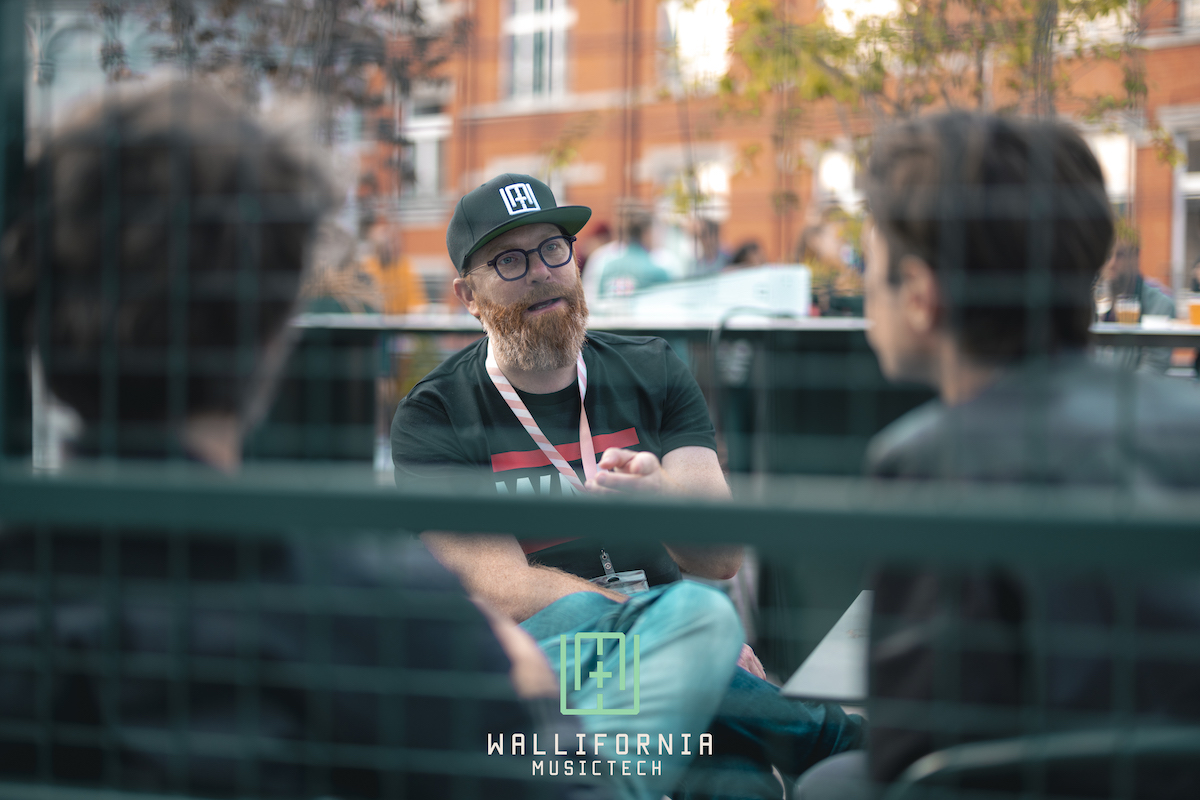 Nicolas Michaux has been a singer-songwriter and a music producer since the early 2000s. "Everything has changed since I started making music. Back then, we still sold CDs. Now it's difficult for creators to monetise their work and earn a living. I think this is a very good time for indie music, though. Once we had to depend on a few gate keepers. Everything was regionalised – you were known in your region, or at best your country, but it was very difficult to cross borders. Today, with our label Capitane Records, our projects are known in France and Canada. With digital marketing and social media, we can reach people on the other side of the world much more easily than before, which is very exciting. Thanks to Spotify or Instagram for example, it has become much easier for more daring and original niche projects to evolve."
Born and bred in Belgium, Nicolas Michaux now divides his time between Brussels and the Danish island of Samsø. "The Grand Poste is a beautiful venue. Playing at dusk in this magical atmosphere was fantastic. It feels good to be back in Liège, where I'm originally from. Nowadays I live in Denmark for part of the time, but I come back to Brussels regularly to work with our label, Capitane Records." 
Belgium has always been known as a land of music and festivals, but there is also a lot to be said about its start-up scene, its entrepreneurs, and its innovators. Over the years, Wallifornia has set itself the mission of connecting them with the rest of the world, while pursuing mutual enlightenment among global music and tech professionals, from artists to labels and start-ups to investors.
Voir cette publication sur Instagram
The stage is set, and the foundations are laid for a unique opportunity – a two-day event dedicated to discussing the major evolutions in the music and tech industries. With more than 60 speakers from all over the planet, this year's Wallifornia Summit will emphasise four topics – AI creation, fans & content, insights and analytics, smart revenues – but there will also be discussions on developing skills, identifying trends and much more. Gérôme Vanherf, Wallifornia's co-founder, explains:
"Our goal is to establish Wallifornia MusicTech and Belgium as pillars of the music tech industry at a global level. A place to be for all professionals in the industry, where the cream of the crop can meet, explore, and talk in an informal setting." 
And because we know there is nothing better than meeting face-to-face, we also took care to provide more informal opportunities to connect, meet, and share. As well as yesterday evening's rooftop party, a private event at Reflektor and VIP access to Les Ardentes Festival are planned. A friendly, Belgian atmosphere for professionals who want to shake things up.
Who says you shouldn't mix business with pleasure?

More about the Wallifornia MUSIC & INNOVATION Summit
After two years confined to the virtual realm, the sixth Wallifornia MUSIC & INNOVATION Summit opened yesterday evening in an informal, relaxed atmosphere on the rooftop of La Grand Poste in Liège (Belgium).   The digital revolution has transformed the way we all consume music. The challenge of adapting has never been greater, but one thing remains – the joy of meeting for a chat and a drink. On the eve of the sixth Wallifornia MUSIC & INNOVATION Summit, which is taking place on